Meetings and Events
Monthly Meetings
If you are interested, why not attend a meeting or two? Regular meetings are held on the third Thursday of every month from September to June (no meetings in July or August), beginning at 7:30 P.M. in the LaMarsh Room of the Niagara Falls Public Library, 4848 Victoria Avenue at Morrison Street in Niagara Falls, Ont. (see map below) All are welcome!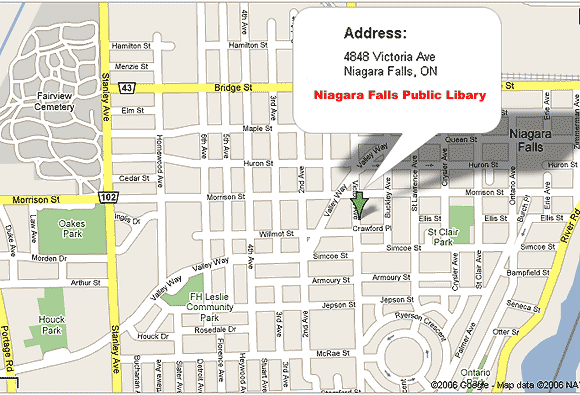 Meetings usually include a lecture by a guest speaker, slide presentations by members, and chatting time over coffee and donuts. It's a good way to meet friends. Information about purchasing, or building your own, telescopes and other equipment is always available, with as man
y opinions as there are members present!
Monthly Public Star Nights
Every month on a Saturday night near the time of a First Quarter Moon, members set up their telescopes at Firemen's Park or Heartland Forest in Niagara Falls, Ont. or at Chippawa Creek Conservation area in Wainfleet for a night of observing for the general public. If you decide to attend a public star night, you need bring nothing but your curiosity.
For more information contact Mark Roberts

str1701ncc@cogeco.ca




December
5th Astronomy Workshop, A.N.Meyer
12th Board Meeting , 7 pm
14th Annual Executive Dinner
19th General Meeting, 7:30 pm Niagara Falls Librar
y, 4848 Victoria Ave
Beginners Workshop @ 6:45 pm ( Members Christmas Party - TBA)

28th Members night @ CCCA Observatory