Events
RASC Niagara Centre Monthly Meetings
If you are interested, why not attend a meeting or two? Regular meetings are held on the second Monday of every month from September to June (no meetings in July or August). The RASC Niagara club meetings begin at 7:00pm in the LaMarsh Room of the Niagara Falls Public Library. The Library is located at 4848 Victoria Avenue at Morrison Street, Niagara Falls. Please see the map below: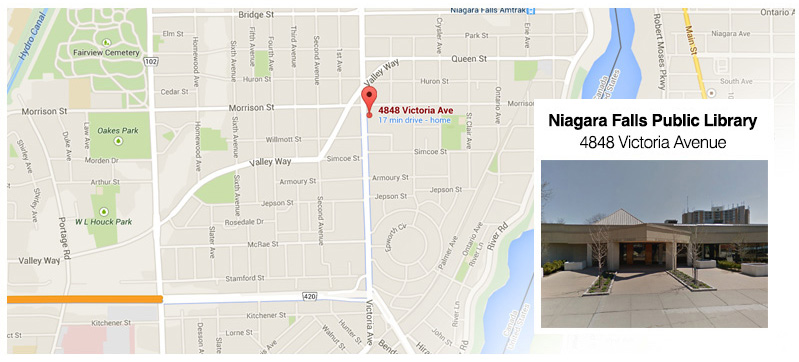 The RASC Niagara Centre club meetings usually include a lecture by a guest speaker, slide presentations by members, and chatting time over coffee and donuts. It's a great way to meet friends, and talk about the latest astronomy news! Information about purchasing a telescope and other astronomy equipment is always available from our knowledgable members. Information about the equipment needed for Astrophotography is also available, as many of our club members have a deep interest in this aspect of astronomy!
Members Nights at the CCCA Observatory are a great opportunity to stargaze under the darkest skies in the area! There are telescopes available for member use including a large 16" reflector housed in the clubs very own roll-off roof observatory!
List of RASC Niagara Club Events for 2016
January 2016
Monday 11th - General Meeting at 7pm, Beginners meeting at 6pm
Please Note: There is no public observing this month

February 2016
There is no Workshop at A.N. Myer this month
Wednesday 3rd - Executive Meeting
Saturday 6th - Members Night @ CCCA
Monday 8th - General Meeting at 7pm, Beginners meeting at 6pm
Saturday 13th - Public Observing @ Heartland Forest (Valentines Day)
March 2016
Thursday 3rd - Workshop @ A.N. Myer
Saturday 5th - Members Night @ CCCA Observatory
Wednesday 9th - Executive Meeting
Saturday 12th - STARGAZING AND ASTRONOMY PRESENTATION

To be held at Heartland Forest, Niagara Falls.

Event: Astronomy AV starts at 7:00pm.

Look through our large telescopes and observe the craters and mountains on the Crescent Moon, the Planet Jupiter and its Moons, The Great Orion nebular, and many other Celestial Wonders. Join us for a laser guided tour of the night skies brightest Stars and Constellations

Free Admission!

Monday 14th /strong>- General Meeting at 7pm, Beginners Workshop at 6pm
Friday 25th - Hawkwatch @ Beamers Point. Solar Observing from 10am to 4pm.

April 2016
Thursday 7th - Workshop at A.N. Myer
Wednesday 6th - Executive Meeting
Saturday 9th - Members Night @ CCCA
Monday 11th - General Meeting at 7pm, Beginners Workshop at 6pm
Saturday 16th - Public Observing @ Firemans Park
May 2016
Wednesday 4th - Executive Meeting
Thursday 5th - Workshop at A.N. Myer
Saturday 7th - Members Night @ CCCA
Monday 9th - General Meeting @ 7pm, Beginners Workshop at 6pm
Transit of Mercury @ Firemens Park
Saturday 14th - International Astronomy Day - Public Observing @ Heartland Forest
11:00am - 3:00pm - Public Solar Observing and Display (Outside @ Portables)
6:00pm - 11:00pm - Public Observing
June 2016
June 2nd Workshop @ A.N. Myer
Saturday 6th - Members Night @ CCCA
Wednesday 8th - Executive Meeting
Saturday 11th - Public Observing @ Firemans Park
Monday 13th - General Meeting @ 7pm, Beginners Workshop at 6pm
July 2016
Saturday 2nd - Star-B-Q, Members Night @ CCCA
July 6th-10th - Public Observing and Camping @ Rock Point Provincial Park
Saturday 16th - Public Observing at CCCA Campgrounds
Saturday 30th - Members Night @ CCCA
August 2016

August 1st - 7th - Starfest at Mount Forest
The 2016 Perseid meteor shower peaks on August 11th. This year's show is expected to produce an outburst of meteors. Read more about this years Perseid meteor shower here: astrobackyard.com/perseid-meteor-shower-2016

Saturday 13th - Public Observing at CCCA Campgrounds
September 2016
Please Note: There is no Workshop at A.N. Myer
Saturday 3rd - Members Night @ CCCA
Saturday 10th - Public Observing @ Walkers Creek
Monday 12th - General Meeting @ 7pm, Beginners Workshop at 6pm
October 2016
Saturday 1st - Members Night @ CCCA
Saturday 8th -- Public Observing @ Firemans Park
Thursday 20th - General Meeting @ 7pm, Beginners Workshop @ 6pm
Saturday 29th/strong> - Members Night @ CCCA

November 2016

Saturday 5th - Public Observing @ Heartland Forest (Outside @ Portables)
Monday 14th - General Meeting @ 7pm, Beginners Workshop @ 6pm
Saturday 26th - Members Night @ CCCA
December 2016
Please Note: There is No Public Observing this Month
Monday 12th - General Meeting @ 7pm, Beginners Workshop at 6pm
Friday 30th - Members Night @ CCCA